Depth Life Coaching For Adults-Couples-Families
WITH  JEAN POLLACK, PH.D.
Welcome. Life is a choice between self growth or fear. Do you feel like your life is not moving in a positive direction? Do you want to overcome the obstacles and fears that are preventing more fulfillment in your career, health, relationship, and quality of life?
My personalized effective approach comes from my many years of self exploration, education and experience.
I provide convenient phone or video sessions throughout the USA. I combine many techniques to create a personalized plan for you.
I blend many years as a psychologist with traditional healing, and complementary alternative modalities such as EFT, EMDR and other mind body approaches.  This, in turn, provides you with a comprehensive personalized solution to your specific problem.
TANGO From Chaos To Creativity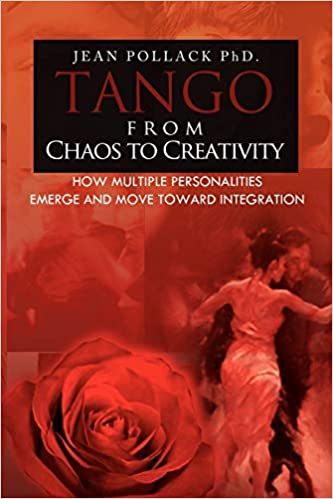 Tango from Chaos to Creativity: How Multiple Personalities Emerge and Move Toward Integration is for anyone who has lost themselves and for the dancer in everyone who seeks truth, beauty, poetry, and connection. Furthermore, it is a story of hope – hope for everyone who has been hurt or abused.
Take that critical first step toward a new you where you feel empowered and on a positive path to growth and well-being.
Reach out to me today.
My holistic approach to personal wellness is to apply complementary integrative therapy approaches and techniques, including TFT (Thought Field Therapy) and powerful EMDR (Eye Movement Desensitization and Reprocessing) as well as Dr. Gabor Mate's Compassionate Inquiry techniques.
I offer professional relationship and wellness/creative life coaching services with Tele-Sessions or Phone Sessions all around the country and the world.
New Clients are eligible for a FREE 15-minute session!
This free session is for telephone, email, or confidential tele-session appointments only.
What Innovative Counseling Services Can Do For You
If you're looking for extra support and guidance through a challenging situation or you're just ready to move in a new direction in your life try our integrative approach. Online video or telephone sessions are available for clients nationwide.
I will be with you every step of the way!
Private video or phone appointments from anywhere.
I blend modern medicine, traditional healing, and complementary alternative modalities.
Together we can compose the perfect plan for you with positive steps towards your goals.
Depth life coaching focuses on assisting you in discovering your passion, your bliss, and learning to trust and move with it in order to feel alive, purposeful, happy, and content.
This happiness can be found in your daily activities, who you surround yourself with, how you care for yourself, your health, your finances, your environment, and your personal development. These areas of your life will become more balanced as you ask deeper questions and learn to trust your purpose and bliss.
M.D.
My husband, daughter and I are in family counseling with Jean and she is not only helping us to improve our family dynamics, but is also assisting with marital issues between my husband and me. It amazes me how she has found a connection with us all, and is helping us to see things through different eyes in her caring, insightful, and non judgmental way. I am so thankful that we found Jean, not only for all the ways in which she is helping our family and our marriage, but also, so that our daughter feels she has such a positive and empathetic listener and advisor who can help her sort things out during these transitional years of her life.
Peter F.
Jean is not your typical Therapist, not text book. After going through about 8-10 therapist, she is the only one I feel truly comfortable with. She does not judge, condemn, or make you feel less worthy of your self. She listens, and opens your eyes and heart to see things in a different light. Thank you Jean for helping us and continuing to do so!
Charles
Working with Jean online with V See (A video chat session) allowed my wife and I to feel comfortable opening up in the privacy of our home. Our schedules are so hectic, but meeting with Jean via V See allowed us to make the time we needed to improve our marriage. We highly recommend Jean.
Linda
Dear Dr. Jean, thank you ever so much for your helpful insights.  You gently nudged, encouraged & guided me in ways that have helped me to gain a greater understanding of this transitional period in my life when all I was seeing or feeling was a dead end.  You subtly showed me the open door to the future that I had blocked out in my longing for the past.  I now feel renewed due in large measure to your help. Thank you from the bottom of my heart.
C.P. - Writer
Jean is a skilled and empathetic therapist. More, she understands the creative process, both as a professional and because she has experienced it herself. She has been a treasured support to me as an artist, fostering my artistic growth and helping me integrate it with my personal growth. Seeing Jean has enhanced my work and also made it more pleasurable and fulfilling.
S.F. Psychologist, Coach
Jean brings her own love of dance and movement to the focus of performance enhancement and demonstrates the same talent and intuitive skills for this specialization as she does in her work with therapy client.
E.M. (EMDR client who lost 140 lbs)
That was a deep, profound, spiritual experience. I haven't stopped thinking about it all week. The revelations and self-realizations I am still exploring. Thank you for leading me through it. Thank you for not being judgmental. I felt completely supported and safe.
G.S., EMDRIA Consultant
Dr. Pollack is able to help other therapists improve their work especially in the area of dissociation and ego state work.
M.K., Health Educator (EMDR Coaching client)
EMDR releases you from the old memories that hold you back. It has nurtured my growth and understanding where all other attempts had failed.
K.S., Writer, Editor (Life Coaching client)
Jean, I wanted to write and say thank you so much. Twice now you have helped me see the world and feel the beauty in this life. Twice now you have inspired my true self's strength. I appreciate this so much. Each day I rise knowing I am who I want to be. This is a gift. Thank you. You are magnificent.
V.K., Dancer (Performance Enhancement client)
Working with Jean has transformed my life and my dance.
T.S., Parenting Client
I am a new woman after my work with Jean. – J.K., Teacher (Life Purpose Coaching client). My children were out of control. Jean helped me and our family to make behavioral changes that truly changed our lives. We are more aware and loving in our relationships with each other.
J.K.F.
Doctor Pollack has provided me a safe and gentle place to become aware and heal from multiple traumas. She is knowledgeable in EMDR, life coaching, management moving forward/coping skills and healthy parenting/family behavior changes. Her compassion and encouragement continue to help, continue to help, move me from ptsd to live a more managed happy, successful life, for my child and loved ones and self.
K.S.
You are the best healer I have met in my life. You are that good. You heal so many people.
You are better than all of the others I have worked with. You listen. Dr.Pollack you are an artist in what you do.
Anonymous
People need a journey guide who knows where they might be going and helps them to stay on one path or possibly choose another. Dr. Pollack makes me feel safe and that's important if you grew up in an unpredictable environment. She helps you get to your true self.
What are you struggling with?
IMPROVE YOUR COMMUNICATION
CHOOSE A PLAN THAT WORKS FOR YOU
DECREASE SYMPTOMS OF ANXIETY AND DEPRESSION
REDUCE YOUR URGES TO OVER EAT, DRINK, SPEND, OVERWORK
GET YOUR LIFE BACK IN BALANCE TO FEEL BETTER
FIND YOUR PURPOSE AND PASSIONS
REMOVE UNWANTED NEGATIVE THOUGHTS AND FEELINGS
IMPROVE YOUR COMMUNICATION
CHOOSE A PLAN THAT WORKS FOR YOU
DECREASE SYMPTOMS OF ANXIETY AND DEPRESSION
REDUCE YOUR URGES TO OVER EAT, DRINK, SPEND, OVERWORK
GET YOUR LIFE BACK IN BALANCE TO FEEL BETTER
FIND YOUR PURPOSE AND PASSIONS
REMOVE UNWANTED NEGATIVE THOUGHTS AND FEELINGS